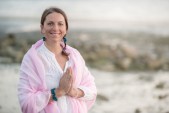 Original text to be found on: http://www.primorske.si/Plus/Sobota/Pogum,-da-sprejmes,-kar-ti-je-bilo-dano--Pogum,-da
The Courage to Accept What You Have Been Given. The Courage to Shine.
The story about Tjaši Artnik Knibbe is a story about a woman from a loving, but addiction-stricken family. She always felt like the one person that simply had to resolve other people's problems, until the pressure became too much and the bubble burst. She started to perceive the world differently, left her job and delved deep into herself. She decided to listen to her inner voice that took her on an 850-kilometre pilgrimage that would finally enable her to let go of the past.

Tjaši Artnik Knibbe was born in Ljubljana, but her family moved to Primorska (Slovene Littoral) soon after. She spent the first years of her life with her brother and parents – her father originated from Goriška Brda and her mother from the Prlekija region – in Lucija but the family later on moved to Koper where her younger sister was born. She remembers her father Franc Artnik that she calls her very own personal guru in love and grace: "My father was a plumber. An immensely deep person, devoted to empathy, which is why people would always remember him. He had the ability to create a story from the tiniest detail that gave food for thought to the other person."
The close-knit family was marked by addiction issues. Tjaši remembers: "My father suffered from alcohol abuse and my brother took drugs. Both were people with a strong personality that concealed a large amount of pain within. My father was a visionary that could see the future. He could see people and what destiny held for them. He was a sensuous, loving, present man who liked to walk in nature. He taught me to seek solutions within, not in other people, although he never failed to mention that people were not an end in themselves and that without love, life was not worth living. I never perceived his alcohol abuse as malevolent. It was clear to me that he was different and that he suffered immensely in the environment he lived in."
Later on, he was successfully treated and he and Tjaši had more than one decade at their disposal to enjoy each other's company to the fullest. Her brother also managed to successfully overcome his drug addiction for a short while. He was the first person from Slovenia to have joined Don Pierino's group Meeting, initially in Italy and later on also in Thailand. Tjaši's parents were the first who opened up about the new drug addiction treatment method in the Slovenian media. But as soon as her brother returned to the local "toxic" environment, his addiction returned and he died. Then cancer befell her mother.
Inner awakening

In the meantime, Tjaši obtained her communication studies degree. She returned to Koper for and to volleyball for a while, regularly training and playing for the Koper Volleyball Club. Subsequently, she got a job in Ljubljana where she also moved permanently. She married Remco Knibbe from the Netherlands.
She was employed by the market communications department of the Dnevnik newspaper where she was also in charge of the business Gazelle Awards. She perceived her job as extremely stressful and responsible. She believes that "if your background is filled with addictions and emotional pain, you become used to playing the role of an adult person from an early age. And yet, having to continuously assume responsibility starts to wear you out when you reach adulthood. I took things too personally and pushed myself to hard. I often experienced burnout from sheer exhaustion but was saved after I was assigned a journalist position."
Her mother's death four years completely changed the way she perceived the world. This is how she remembers those tough days: "When my mother left, a part of me left with her as well. I was present during her dying period to such an extent that it made me want to leave too. Before that, I wanted to attract her illness as I was always the one in the family that had to resolve the problems we came across. A tumour (luckily not cancirogen) indeed developed in my body and surgery was inevitable."
When you happen to yourself
That is when she experienced a deep inner awakening. "It just all got too much after my mother died. The bubble burst. When it popped, I actually happened to myself. Surrendered to the energy to the fullest, yielding to the current of life. I experienced a powerful inner peace. I started to visit workshops and writing articles discussing spiritual topics in a professional capacity as well. I got to meet many spiritual teachers that still seemed too immersed into their mind, failing to exhibit authenticity."
Her father died in a completely different way than her mother before – it all happened rapidly. She reflects that "this was probably the only way for it to happen so that our strong bond could break." She regarded her father's departure as a challenge to be fully present in the moment all the time and not to allow the pain to suffocate her. She decided to do everything in her power to deepen and expand her father's knowledge and all that they had created together, telling me: "Have the courage to receive what has been given. The courage to show your light, without façades, without retreating. This is what I've been doing during recent years. I did not move to the woods but my life left me with a deep spiritual experience in the same environment I had already lived before."
She left her regular job, completely yielding to her new path. "My husband promised to provide for me so that I could spend a while completely surrendering to the unconditional current of life." Our interviewee feels that "us women have a particularly expressed instinct that our home and family come first, which can prove limiting in such a case."
She soon shifted from a spiritual seeker to a researcher. The well-known El Camino de Santiago or The Way of St. James constituted one of the challenges she wanted to conquer. Before that, she spent a few months meditating and delving deep into herself. "Presence, neutrality, empathy, and grace. Four key messages that have activated my life like the lives of many others so that we can create a new reality, together."
Camino's first lesson
Tjaši discovered that the first lesson of Camino began as soon as she started packing her backpack. "I have opted for a small, 30-litre backpack, weighing my luggage and prudently placing it inside. I cannot help but laugh at the very thought of travelling around the world for a month and a half with so little luggage. Finally. One of the needs that emerged within me during all the changes I have experienced is also to lead a light life without any unnecessary clutter," she writes in her blog.
The Way of St. James or El Camino de Santiago is the joint name for several pilgrimage routes that take you to St. Jacob's sanctuary in Compostela (Santiago means St. Jacob). Tjaši embarked on her journey in the village of Saint-Jean-Pied-de-Porte in France, entering Spain after the first mountain pass over the Pyrenees. She walked 850 kilometres by not completing her journey in Santiago where the majority of pilgrims come to a halt but she continued until she reached the Atlantic coast and the magical seaside town of Finisterra where she ritually burnt her clothes by the lighthouse, throwing all thoughts binding her to the past into the fire. She did not count the days she spent on the Camino, completely oblivious of the time that has passed, even missing her flight back home, but ultimately all is well that ends well. This is how she described her walk: "You walk when you feel it is the time to walk and you stop when your rhythm decides you should stop. It is worth giving it a go as I do not see any other point in undertaking a spiritual journey. Schedules are nothing but mirrors of controlling things, which, subsequently, constitutes a reflection of fear and insecurity. I am truly grateful to have managed to retreat completely."
She spent the majority of her walk in silence. "People that undertake the Camino pilgrimage vary. Some of them are very fit, others completely unprepared. In the end it dawned on me that the main difference whose Camino journey proved a greater or minor challenge lay in the lesson they needed to learn. Toughest moments were experienced by people seeking to exhibit the greatest amount of control. Those who planned on a daily basis the amount of kilometres they would cover. Those who divided their journey into various stages and read heaps of guidebooks. It does, of course, make sense to sometimes refer to the Camino guidebook, especially in those parts of the journey which are covered by many people and you thus need to act fast enough in the evening to get accommodation. One time I also booked a room soon enough even though I followed the guideline to surrender to the journey completely which obviously does not mean that you should not exhibit pragmatism whenever needed. Call, book, and then surrender throughout your journey, knowing that a room awaits you in the evening."
A new momentum

She did not wear herself out with exertion while walking. All boundaries that she had been previously positive she could not overcome were overcome easily several times. She also did not train a lot before the Camino even though she was convinced she should have. "Camino is an epitome of how immense spiritual power can enable you to overcome the belief of what you are actually capable of. You surrender to the game and dialogue between your body, spirit, thoughts, and emotions. An automatic process that regulates itself. When you do not do anything but merely allow yourself to be. We are all used to acting: we have to meditate, we have to train, we have to read a specific book to awaken a specific impulse within. But then we ended up trapped in the mindset that something needs to be done in order for us to reach the state of simply being. Quite the contrary holds true: simply being requires a calm mind, no action. Re-activation follows this state. Something I achieved for the first time during the Camino."
A lot of youth sought her out during her journey; there were times when they addressed her only after following her for a while. They heard that the woman walking in silence bore messages. "The messages I had to convey were extremely powerful. When you walk in quietude, you feel vibrations emanated by people, sensing their stories without anyone uttering a word. Our everyday lives are filled with too much noise. But in solitude and in contact with precious nature you end up experiencing your authenticity, hearing yourself, realising who you actually are."
Overcoming boundaries
She experienced several deep experiences during her journey. "The part during which you walk along the desert, Meseta, is brutal for all people living in their heads. Stricken with fright, many people preferred to take the bus and skip it altogether. The extreme heat strains your body. And, even more interestingly, there are no stimulants that otherwise occupy the mind. There is nothing there, except for rocks."
She admits that the emptiness proves a severe shock to the system. "We are no longer able to live without stimulants. Whereas I felt like a duck on water, able to acquiesce to the experience totally. I even experienced one of the most beautiful and deepest meditations of my life."
Once she made the decision to consciously take up a greater burden than she felt she could handle. She wanted to experience her boundaries. She decided to help a disabled person on a wheelchair and the man's friend that was pushing him along the Camino. "I kept running into them and, at some point, knew I had to approach them. I was pushing the wheelchair like crazy and Patric the "pushing" friend was incredulously panting behind me, trying to convince me that there was definitely something wrong with me that I was able to walk with such speed. Surrendering to the energy, I did not trouble myself with anything." She laughingly told me: "When I ended on the top of the hill, the wheelchair-bound man told me that we should wait for his friend."
That very day she discovered how much she was actually capable of. She went all out physically, mentally and spiritually, and then woke up the following morning, refreshed, at 4.30 in the morning, joyously setting on her journey, even though it was raining cats and dogs. That is when she covered 40 kilometres, realising how our minds placed unnecessary limits on us. This is what she told me: "Carrying so much emotional pain, the Camino suited me down to the ground. Walking also strains your body and makes you sweat, which did a world of good as well. My pain was oozing out towards the surface and surrounding nature made me feel safe enough to be able to stay in touch with it all the time. Walking is a highly rhythmic endeavour, bringing into balance the body and calming down the psyche. Especially if you spend long hours doing it on a daily basis. I gained a lot of physical power during the Camino and my body changed to the extent that I am still sometimes amazed by my new appearance." Initially, no text on Camino was in the works. She did not even take a camera with her unlike so many others to publish a travellog after their return from the journey. She did not communicate with her friends on Facebook, she merely send a message here and there to her husband, whom she nevertheless asked not to follow her in his thoughts and not to worry.

But when she returned, the desire to write arose again. Surprisingly, given that she had lost the will to write, overcome by grief after her father's death. She published her first blog entry and things went on from there. She knew she had to speak out about her experiences.
Her blog entries on sparklyreality.com are also currently being translated into English and German. Short video messages are also in the works. Even though she preferred to lead a solitary private life during recent years, she easily found a way to reach out to people.

She is positive that "spirituality is our true nature but we need to discern here, on Earth, what that means in practical terms. We need to practice authenticity: to see each other, to notice one another and to not simply pass another human being if they are in pain. You need to make the time to listen, to always strive to seek solutions, not conflicts. When you are in touch with yourself and nature, you need only little to lead your life. You become naturally inclined to socialise with kindred spirits, aware of the significance of creativity. There is no point in keeping the energy within, it is so much better to express yourself." Seeing her role in writing, she also prepares group meetings and meditations, seeking to help people become aware of behavioural patterns that prevent them from surrendering and leading a full life.
She still has a list of things she wants to accomplish until she hits 40 in her head. She started to make her wishes come true this year. She wonders: "There are so many things we tend to say that will be done at some point in the future. But when my parents left this Earth, I began to wonder when that 'point in the future' would come for me. When would I stop saying that I do not feel like doing something or that there is something that I cannot do?"
List of passions
When she asked herself what her earthly passions were and what she would regret not trying once in her life, she thought of many things that she has been doing one after the other. This past summer, she learnt how to surf. Her "bucket list" also includes an English book that she wants to circulate all over the globe. She also wants to attend a free diving course in the depths of the Red Sea with her sister Alenka Artnik, whom most people will remember from her free diving records during recent years.
She is not worried about making money. She is convinced "that if you are in touch with your inner abundance, your financial situation will be taken care of as well. Material goods no longer constitute a compensation to lead a full life on this Earth but constitute merely a natural consequence of the abundance you feel within. It is of importance to re-learn the rhythm of giving and receiving, greatly empowered by this group dynamics. Individualism that so many people today mistake for freedom is baring its teeth. Let us reach out to others and give a helping hand like we used to. Then we will learn that happiness requires little money but heaps of love. How does that song go again? "Life is beautiful if you live it."
ALJA TASI


FOTO: provided by Ken Page
Written by: Tjaši Artnik Knibbe
______________________________________________
Ken Page spent the majority of his life in the business and healing fields. While his career in the corporate world brought him many successes, he continued to feel that life held 'more'. Ken has devoted much of his own life to personal understanding, spiritual development and self-empowerment.
I got a taste of your really wonderful therapy of just 2 hours of quiet and peace. After it, I finally felt my centre and embarked on a journey towards love, compassion, and understanding of my purpose here on Earth. What actually happened during the session?

We are made up of millions of emotions. During your session, you were able to let go of your past and the emotions you no longer needed. That created a space inside for you to find the quiet and peace of yourself – a space where you could recognise your own choices and feel free.
How do subconscious patterns control our lives?
The question might be: are you spiritually evolving? If so, your subconscious mind would keep attracting and creating the same types of patterns in your life until you come to recognise them and become aware that they are continuing. In that way, you can begin to understand your creations and choose to say 'no', and not give further energy to your old patterns.
Is there any easy way to recognise them?


Being more present in the moment allows you to become aware of your issues or old patterns. Then you can let them go or not – by reacting in a different or in the same old way. You have the choice to keep reacting or to begin responding in a new way.
How important is it to stay a witness and observer of life and to not get involved in the daily intra- and inter-personal drama?
Once you complete something (perhaps it is an issue) in your life, you are often asked by Spirit to witness and observe another. Your experiences give you a level of compassion that you would not have had without the experience. To stay a witness is a challenge – not to become involved with the drama of your past. Yet it is important if you wish to become all that you can be. Being a witness allows you to even be the observer of your own life.Is it important to understand that energetic looping is engaging with others by projecting your issues onto them?
Energetic looping often happens subconsciously. Projection of your issues onto someone else does not always create energetic looping. Projection is the push-and-pull energy which can become a loop if the other individual reacts thereto. If they do not react, there is no energetic loop. If the other person does react, you are subconsciously creating a loop of energy that continues back and forth and through which you seek to validate yourself.
In the book "The way it works" you call that phenomena "to stay energetically invisible"… your comment please.
When you no longer need anyone else to be your mirror – to reflect your issues back to you, you become energetically invisible to those people. Their issues will not be reflected by you because they can no longer see you – they see another person with the same issue.So, are we creators or victims?
We (Nancy and I) believe that we are all creators. You can choose to fall into the idea that you are a victim, yet you are actually the creator of your own experiences.

Is it true that, in fact, your Higher Self is the one working through your subconscious mind and who wants you to realize you are creating your reality and you have choices?
Yes – the Higher Self is a finer or lighter part of yourself that represents the wisdom of Source. The more you find that finer connection, the more you become aware that you create your reality, within which there are always choices to be made.
That means that anything you do with conscious intent and focus, even if it only takes thirty seconds, will change your life?
As long as it is something you can trust and that you truly love from your heart centre. As long as you continue to be in the space of allowing yourself to be open and non-judgmental = yes. Subconscious programs and patterns stop you from creating – even with the best intent and focus.
How important is it to be able to stay in the moment?

It is very important because it allows you more choices than just to recreate your past over and over again. The moment is the space that gives you the opportunity to view all time – past, present and future. The moment gives you a full perspective of everything.
The other day, my intuition, in my dreams, told me that it was time to start talking more about conscious responsibility than social responsibility. What do you think about this message?
All your messages have to be in balance. Your social balance needs to keep on blending with your spiritual and physical selves – all together. How do we (Nancy and I) do it: we ask for our spiritual life to become physical – to manifest physically for us to be able to recognise it. That way we can see our choices easier.
We are surrounded by duality. Emotions, prejudice and a lot of other experiences are in their essence dual. Why?
Duality exists on Earth in order for you to be able to find the balance between good and bad. That balance (in the middle with clear light) allows you to create differently than in the past. Most people are two-dimensional: right/wrong, good/bad, light/dark. They still exist in the polarities and dualities of this Earth plane. Finding the balance of remaining in the centre and in the moment allows you to recognize your choices.
In your book you wrote "I believe we are a part of source and collective consciousness of all creation". Tell us more.
Within each person there is everything that exists within all time. You have every single collective consciousness within you as you are a part of Source – which is everything and everyone. The recognition that you are already a part of everything – the good and the bad – allows you to be closer to the Creator. It's what we call 'Oneness' – without separation.

Then you mentioned that you believe one of our purposes on Earth is to balance all different collective consciousnesses. How do you start off by creating different collective consciousnesses and how do you subsequently balance them?
You have been a part of all collective consciousnesses throughout time. Is it possible that you have in some way influenced them? If so, by having unconditional compassion for those consciousnesses, it gives them the opportunity, the choice to change. Our definition of compassion (Nancy and mine) is no judgment, no opinion, no right or wrong – just an acceptance of what is and the unconditional compassion that already exists. That gives everything a choice.
I remember you told me that Slovenes, since we don't trust our intuition and inner power, tend to fall back into old negative emotional patterns. How come?
This is not merely characteristic of Slovenians, as we (Nancy and I) have found this all over the world. When people have not found the true connection with their Higher Selves and have not yet reached the ability to have compassion for themselves and others – they cannot trust their inner knowing. Until you can get to a place where you learn to listen and communicate with your Higher Self, you will continue exhibiting old patterns regardless of what kind of culture or country you live in.

I have noticed a few changes in people's consciousness and I'm wondering if you also believe that we are on the verge of reaching the time of unification, the so-called 5th vibration, when the key will be unconditional love?

When we look at the world as a whole, the shift we see is awareness, although it remains to be seen whether the awareness of some can outweigh the inattention and lack of awareness of the multitudes and masses in other areas of the world. We (Nancy and I) believe that you have every vibration already within you. How many people can allow themselves to be something that they do not know? We advocate Oneness without separation. Even though that sounds easy, it proves a truly challenging concept for most people.


Published in Moje zdravje,
Dnevnik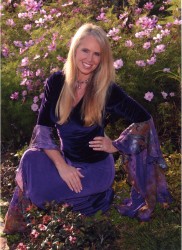 PHOTO provided by Doreen Virtue

Interview by Tjaši Artnik Knibbe

One of your books is dedicated to Archangel Raphael, the archangel that helps you heal any life areas. Can you explain more about angelic healing of major modern-day global issues?
Archangel Raphael indeed helps you heal all physical and emotional issues and works closely with Archangel Michael, who protects us all and lifts away the energy of fear. These archangels are non-denominational and unlimited beings, which means that they can help everyone and everything simultaneously. So for any issues on a personal or global level, it's always a good idea to call upon them for healing and protection. One of the biggest problems in the world is that people do not trust themselves and their own inner guidance. I believe that this type of low self-esteem is a very big problem in today's world. By working with angelic energy, I have noticed that this divine power is very powerful and healing in the case of low self-esteem and self-worth.
How do you think angelic help can be used to heal your low self-esteem, so that you can learn how to trust yourself more?

Sometimes, you learn to trust by defying your intuition and then learning afterwards that you should have listened to it! So, no matter what happens, it's always a learning experience.
My next question is connected to the previous one. In addition to low self-esteem, many people in today's world feel some sort of emptiness. As I understand, angelic energy is very healing and loving. How can angels help you fill this emptiness inside you to feel more love?

The angels remind you that you are very loved and valued by both God and Heaven. They help you to know that you're never alone and that help and guidance are available 24 hours a day, 7 days a week. All you have to do is ask! The angels – Archangel Michael in particular – help you gain a sense of existential meaning by directing you towards your soul's life purpose. Once you discover and begin working on your purpose, your heart and soul are filled with light and love. Emptiness cannot exist in this sense of glorious purpose that we all have.
Many of the topics discussed by the two of us today might seem unusual to some people. But I see that more and more people are open to this. What do you think is going on in the world regarding the consciousness of humanity?

Around the time of the Y2K scare, more people began coming to my angel workshops. Many people are putting spirituality as a top priority as a way of dealing with fears and a sense of lack of control. More people are seeking a non-traditional approach to spirituality, since there's a suspicion about the integrity of traditional religions. I'm finding that people are blending the best of religions, and letting go of the old fear-and-guilt paradigms. It's like a do-it-yourself approach to religion and spirituality. I do believe that having a spiritual approach is the best way to boost personal happiness and inner peace. The particular spiritual path doesn't matter, as long as it's love-based and the person has faith in it.
Many people have different experiences that seem unusual. Often the unusual experiences and coincidences you experience are caused by your spiritual guides and angels. Do you remember your first experience after which you simply knew that angels were involved and that they were real? Can you maybe share an actual experience with angels?

As a small girl, I would see dancing coloured lights accompanied by an unusual and otherworldly sound and feeling. I know now that I was seeing, hearing, and feeling the angels. They would reassure me when I'd feel frightened or lonely. I've experienced them my entire life, and they've protected and guided me as they do all of us.
Some people are sceptical about angelic energy. Do angels help everyone, regardless whether they believe in them? What do you see as the biggest obstacle that people need to overcome when trying to experience their energy?

Yes, angels are non-denominational beings that love and help everyone unconditionally. It doesn't matter whether you believe in them because everyone has a personal guardian angel regardless of their beliefs, as they are a part of your spiritual anatomy like your brain or heart. The biggest obstacles preventing people from hearing their angels are alcoholism, drug abuse, and low self-esteem, as it takes a clear mind to clearly hear one's intuition and divine guidance. I believe people abuse drugs and alcohol because they're afraid of hearing divine guidance which may cause them to make positive life changes. Low self-esteem makes people feel undeserving of goodness and unqualified of receiving God's help. Fortunately, angels can heal away addictive tendencies and unhealthy cravings, and can also raise self-esteem. Angels want to create a peaceful world, one person at a time. So when you allow angels to help you, you're helping to heal the entire world!

Published in Nika, Dnevnik
________________________________________________________________________________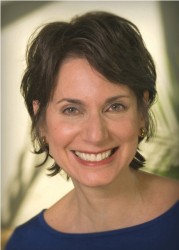 PHOTO provided by Patricia Spadaro

Interview by Tjaši Artnik Knibbe
In your book "»Honor yourself "you wrote that life is calling upon you to give but that you have to learn to give and take in harmony. What is that all about?

Most of us have grown up hearing that it's "better to give than to receive." It's essential to be a good giver; but in order to continue to give creatively and abundantly to others, you have to learn to balance the two sides of the coin. You must learn how to give to others and give to yourself, to give and to receive. Even Mother Teresa, who was known for her unconditional generosity, taught that renewal is a prerequisite for garnering the power to serve.
Giving to yourself means more than taking care of yourself physically. You also have to honour yourself emotionally and spiritually and listen to what's calling to you from the inside, not just who is constantly knocking on your door from the outside.
If you don't respect yourself enough to take care of what your whole self needs — physically, mentally, emotionally, spiritually — you may find yourself not only exhausted, but also sad, empty, and depressed. When you feel like that, it's hard to live deeply or give fully.
In part, I wrote my book Honor Yourself to help people find practical ways to answer what I consider to be one of the most essential questions you can ever ask yourself: "What can I do right now to honour myself so that I can unleash the full power of my creative spirit and give my greatest gifts to my loved ones, my community, and the world?"
Some people become real experts in giving, some in getting. What kind of social background makes this difference? Your childhood? Social environment? Religion? "Values"? Or is it all related to the dualities that form part of the polarity of life?

I think that you can find people from all kinds of social and economic backgrounds who are good at giving generously to others. Likewise, you can find really selfish people who come from all kinds of backgrounds too. It's not a simple equation.

Self-esteem, of course, is something you develop as children and continue to develop as you grow older. Parents, teachers, and others play an important role in teaching children to build strong self-esteem by appreciating their efforts instead of constantly judging or criticizing.

In reality, the most important thing you can do to help the people in your life honour others as well as honour themselves is to model that behaviour by having a healthy self-respect for yourself and for others.

One habit in particular that is vitally important is allowing people to express themselves without shutting them down, invalidating their feelings, or trying to tell them how they should feel. If you don't allow others to express how they feel, the message you are sending out is "What you feel and what you have to say isn't important. You aren't important." That is a very crippling message. Even if you disagree with others, you can open your heart and listen to what they have to say. You might even find that they have something valuable to teach you.
It seems that you need to experience the dark to appreciate the light. Is it really always necessary to suffer or can you embark on the path of maturity with a new tool called consciousness?

This is a great question, and one I'm working on addressing in my next book. I know it's very popular to say that if you think and act in positive ways, you will always attract positive things into your life. I would say that that is only partially true because it sidesteps this important issue: sometimes the challenges in your life—what you perceive as the negatives—are exactly what you need.

The idea that you're a failure if you're not happy and smiling all the time, or that there is something wrong if your life isn't always easy, is a myth.

What gives you real happiness is a connection with your inner spirit. Real happiness comes from knowing that you are digging deeply and dealing with the issues that matter most in life. So the suffering and lessons you experience are always in your life for a reason. They are what help you dig deeper. Discontent is not bad; it can be the starting point of something very significant.

At times, the road of life is straight and at times it is bumpy. Of course you want to experience times of joy and peace, of taking a deep breath and feeling gratitude to be alive. Yet the bright meaningful moments occur when you are travelling over a bumpy road.

I am not saying you should let yourself get stuck in self-pity day after day. To sit there and do nothing in the face of challenges and see yourself as a victim is a sure way to stay stuck. Instead, summon the courage to ask yourself: "What am I trying to hide from that this situation is forcing me to look at? Why is this situation in my life, and what do I need from it?" Don't be afraid to explore the "why" behind the things that are happening in your life. In my experience, that's when the real breakthroughs take place.

When on the way of learning this art, how much can you be blocked by continuing to embrace old convictions that it is noble to be good and giving and that a good woman is a professional giver and that kids can act as energy vampires towards her till the last breath leaves their mother's body because the only purpose of her incarnation is to meet her children's energy and material needs …..?

Have you ever been on an airplane that is preparing to take off? Then you've heard the flight crew announce that if there is an emergency, be sure to put on your oxygen mask first before helping others. It's the same way with life. If you don't pay attention to yourself, you won't be able to help others.

Do you believe that if you don't drop everything each and every time someone asks for your help that you are abandoning him or her? The truth is that if you continually sacrifice yourself for the sake of others, you end up abandoning yourself, and you ultimately have much less to give others.

Instead of feeling guilty when you need to say "no" to others because you need to take some time for yourself, say to yourself: "What do I need to do for myself today so I can feel alive and happy to give again? How can I make room in my life to say YES to myself?"

It helps tremendously to say YES to yourself in some way every day, even if it is just taking a short break before making dinner or taking a quiet walk at night. The little things you do for yourself can make a world of difference.
When on the way of being a "super-giver", I understood that the door to real giving and receiving opened when I realised how important it is to give from the heart and expect nothing in return. Share with me how to become an artist of "giving and receiving" life wisdom from the heart?

Sacrifice and unconditional giving are wonderful — when they are done at the right time and the right place. Some people, however (and I've been in this situation myself), give away so much of their time and energy that they become a doormat. Just because you want to be loving does not mean you should allow yourself to get stepped on and stamped out. When that happens, you can lose your own identity and sense of purpose.

Sometimes your giving can even be harmful instead of helpful to others. If you allow your friends, spouses, children, or colleagues to become overly dependent on you, you are not doing them any favours but are allowing them to develop bad habits. You can actually stunt their growth by continuing to allow them to misbehave or by doing the things for them that they should be learning to do for themselves. You have to balance your loving heart with a firm setting of boundaries.

Drawing good boundaries is an art. Here's one thing that can help you decide whether giving is the right thing to do when someone asks for your help. Instead of assuming that you should automatically give, stop and listen to your feelings. Take a couple of deep breaths, close your eyes, enter your heart, and ask yourself: "What are my choices? And is this sacrifice the right thing for me to do right now? Am I the best person to respond to this need? What are my feelings asking me to do?" Then give yourself permission to say no if you need to or yes if you feel that's the right course of action.
Let's get clear now at this point how receiving in the material and spiritual sense differ from one another. I guess people tend to mix things up when it comes to evaluate the receiving part. For example … my father waters the cactus on his balcony every day and the Art of Life has provided him with one of the biggest cacti there is. His ego might understand this as a punishment because he gets hurt by all the needles or he could get carried away by showing off that he is the man. But his heart understood that the message of this strong plant was that you don't need a lot of food or space to survive and that the sun and letting go of unnecessary mental and emotional cages are all very important for your physical growth. He got a gift from nature that many would not see. Your comment, please.

It is so true that the most valuable lessons and gifts you receive in return for opening your heart and giving are often not physical. They are lessons and gifts of the heart and spirit. It is important to learn to listen with your heart and interpret the things that happen around you and that you feel inside of you as feedback. Remember that it doesn't matter what these signs mean to other people but what they mean to you.

I found this to be true in my own life over the years. One time when I had been blaming myself for problems I was having at my job, I decided to go for a walk. I had been feeling that the messy issues at work were all my fault. Even though I had been working hard to find solutions to the problems, I felt that something had to be wrong with me. So I went for a walk alone at twilight. Nature began to work its magic on me, as it always does, and I couldn't help but say to myself, "How beautiful is everything God makes!" And then I heard in my heart, like an echo coming back to me, "So you must be beautiful too."

That little dose of truth gave me the strength to keep going. It reminded me that there was not something inherently wrong with me, even if I stumbled here and there. It also helped me see that judging myself wasn't doing me or anyone else a bit of good. It restored my hope that things could get better — and that I was better than I was giving myself credit for. Feedback can come from many sources if you can open your heart to it.
Many people are afraid to say NO and don't have enough inner power to say NO. Help us a little bit out here by telling us how to become less afraid of saying the big NO and learn the magic of saying NO to the right person at the right time, as many times you tend to reject those people who really would need your help but have no power to say that to those who deplete you of your energy on a daily basis?

I offer many different tips in my book for learning how to say no when you need to. If you are someone who has a hard time saying no when you should, here are two of those tips that can help you practice drawing healthy boundaries:

1. Practice on small things. Saying no can feel uncomfortable at first. Start by taking baby steps. Each week, practice setting boundaries in the small, everyday issues that arise. Turn off your phone when you need to concentrate rather than allowing yourself to be interrupted. Ask a family member to make dinner or do an errand when you're short on time. Tell friends you're not available on an evening when you want to spend time alone. As you learn to set boundaries in situations like those, you'll find it easier to recognise and confront the larger issues when they surface.

2. Put yourself at the top of your priority list. Don't wait until you've checked off the tasks you are doing for others to give yourself what you need. When making your daily to-do list, be sure to schedule some time for yourself so that your own self-care isn't the item that gets constantly left off your list. Recharging your batteries is not optional. It's a bona fide part of your schedule.
Speaking of taking energy. I noticed that the taking and giving process becomes a kind of dependency, a way of running away from yourself and your inner pain. We need each other and I believe it is necessary to bring light upon even this aspect on the way of freedom. Your opinion?

Continually sacrificing for others can become a "habit", just as much as depending on alcohol or drugs or shopping can become a bad habit that keeps you from confronting the underlying issues or pain that drives your behaviour.

You are right that in an odd sort of way, at subconscious levels, you may actually welcome extreme self-sacrifice, even when it is dangerous to you. There can be several reasons for this. One is that you don't feel worthy inside and it feels good when someone else desperately needs you.

Extreme sacrifice can also provide you with an excuse for not having to take responsibility for your life. That way you can say, "It's not my fault," when things don't seem to be going right. Continually giving to others can also be a way to avoid the confrontations that may come when you begin to honour yourself and assert your right to be at the top of your priority list.

You may also be afraid that if you get in touch with your real passion in life, the conditions you have become accustomed to will change dramatically. You may have to move, give up a relationship, or take the risk of starting a new career. Even though those changes can be good for you, they can be scary, so you try to avoid making them. You keep busy doing things for others so you don't have to confront your own fears.

Busyness, then, can sometimes be an escape mechanism. It's a way to drown out your inner voice or inner pain. Again, sacrifice is a beautiful virtue when it comes from a full heart. But to use sacrifice as a way to avoid facing your fears or shaping your own future, is not going to help you fulfil your reason for being. It's like accepting a supporting role in someone else's movie when you should be playing the leading role in your own life story. The best thing any of us can do for our loved ones and for the world is not to hide behind sacrifice but to make the real sacrifice of stepping into the highest role we can fill in this moment.
You have enough power to say NO. Finally, you do it. And then your body is "possessed" by an enormous monster called regret. Your stomach shrinks and your whole body is in pain. You ARE GUILTY of not being obedient? How can you overcome that terrible feeling?

Change happens in steps, so you need to be patient with yourself when you start practicing standing up for yourself. Other people who aren't used to your new self-esteem may feel threatened. But remember that when you treat yourself with kindness and draw your boundaries, you are teaching others how you want to be respected and treated. Don't give up and don't go back to old, weak ways.

Here are two simple strategies that can help you keep voting for yourself:

1. Write a love letter to yourself. Pretend for a moment that you are your own greatest advocate. Now write a supportive and encouraging note to yourself as if you were cheering yourself on. Then put it in an envelope and mail it to yourself. Or when you are travelling, send a postcard with an inspiring message to your home address. Right before shutting down your e-mail for the night, send yourself a note of appreciation so that you will see it when you download your e-mail the next day. Develop the habit of applauding your greatness.

2. Keep a photo of yourself as a child nearby. Choose a photo of yourself as a child that reminds you of your sweetness, curiosity, or love of life—a photo that reflects who you really are at heart. Buy a beautiful frame for it and place the photo somewhere where you can view it often. Every time you see it, let that heart-opening image put you back in touch with that real and precious part of yourself that needs your protection and deserves to be loved and honoured — first and foremost by you!

Any tips on how to overcome the fear of criticism?
There's a wonderful African proverb that I love: "It's not what you call me, but what I answer to." The truth is, no one can dishonour you if you really honour yourself.
Criticism can be a painful thing to endure. Remember that most of the time those who criticize you are insecure. Their criticism tells you more about who they are (or aren't) than about who you are.

In cases like that, you can honour yourself by not taking an attack personally and not blaming yourself for someone else's inappropriate actions. People's labels for you are not the real you. Those labels only define you if you accept them.

You get to choose who and what you will tolerate in your life. If you are in a personal or working relationship with someone who tries to whittle away your self-esteem by constantly judging and belittling you, you owe it to yourself to create boundaries and to tell that person how you feel when that happens. It's important for your well-being to remove yourself from that toxic energy. It can weigh you down, stunt your creativity, and make you feel depressed or even sick.

Try this: Decide on a specific action you will take if the judger in your life continues to bombard you with criticism. Clearly, lovingly, and firmly tell him or her, what you will do if it happens again. For example, you may decide to leave the room, politely excuse yourself from the phone call, or, if it's serious enough, end the relationship altogether. Be sure to follow through and take that action. When you honour yourself, you are training other people to honour you.

Also, be sure that you spend time with people who celebrate and support who you are. You deserve companions who are interested in what you have to say and don't feel the need to suppress you. If you allow yourself to be pressured or pummelled by someone who doesn't appreciate your gifts, you will only be in a constant battle that will eat away at your energy and enthusiasm. You don't have to prove yourself to anyone or justify your dreams and plans. Your job is to be you.
How can healthy and productive boundaries between you and others be drawn?

Becoming aware of an unhealthy habit is the first step towards changing that habit. So a powerful way to start to draw necessary boundaries is to become aware of when you say yes to others or run to help them without even asking yourself if that is what you want to do.

The first step towards learning to draw boundaries, then, is to stop saying yes automatically. When someone asks for a favour, even a close friend, you don't have to answer them right away. Tell them that you need to check your schedule and you'll get back to them. Then give yourself some time to decide if this is the right thing for you to do.

At a certain point, you need to ask yourself: "Are the sacrifices I'm making actually bringing me closer to the fulfilment and meaning I seek in life?"

Published in Dnevnik