SATSANGS WITH ED&SARABRAJ
2. JUNE: NAAR ZEE, AMSTERDAM
IN AUTUMN 2019, AJNA TEMPEL, HEEMSKERK
http://www.ajnatempel.nl/
Ed Bruins -
Hatha master, Raja docent en mindfulnesscoach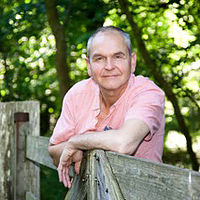 Yoga (verbinding) ontstaat als degene die ervaart samen valt met de ervaring zelf.
Aan het prille begin van m'n ont-dekkingsreis kon ik wel aanvoelen dat dit zo was maar; hoe ga ik dat ervaren? Dat was de vraag.
In de opleiding die ik ontvangen mocht kwamen heel veel puzzelstukjes op z'n plek. Hart en hoofd kregen hun rechtmatige plaats. Samen werden ze meer dan twee aparte delen.
Ik had het geluk om les te ontvangen van een zeer gepassioneerd leraar, en daar zeven jaar te kunnen doorleren.

Verder begreep ik dat dit het doel van m'n leven was: beoefenen en doorgeven van Yoga om uit te komen bij wat niet gemist kan worden; m'n Zelf.

Door de tijd heen is de vorm van lesgeven weliswaar veranderd, maar bleef de kern, dat waar Yoga voor geschapen is, intact. Yoga staat niet voor een bepaalde oefenwijze maar voor de oorspronkelijke betekenis, namelijk ' het in verbinding zijn met wat Is'. D.m.v. ont-spanning en 'Zijn' i.p.v. doen, worden we meer waarnemer in plaats van doener.
Zo zetten we de ware kracht van Aandacht en Liefde in, die in ons gevoels-bewustzijn tot een diepe bewuste ont-spanning leidt en vandaar tot aan ons Zelf reikt.

Dit is van waaruit ik les geef.

Dit doen zonder te doen is het doel zonder dat we een doel hebben.
Ed Bruins


Sarabraj - Certified Kundalini yoga teacher, Heart & Soul practitioner and bestselling author from sLOVEnia
Her visit gives you an unique opportunity to Stop, See and Participate in an intenationally renown energy experience that will spread your awareness, open your inner potential and meet you with endless life potential.

Are you ready to let go stress, anxiety, old energy's, feeling powerless, sadness, fear or anger? Than join us on this releasing workshop that is the right place for you to recover from every day's life unbalanced rhythm.

Sarabraj will share on this amazing workshop energetic wisdom based on the power of I AM and is welcoming total beginners as well as advanced students of all kinds of yoga or just one searching for deepr awarness experiences of Being. Sarabraj will transfer you an exceptional Knowing that affects all levels of your being simultaneously – your mind, body and soul. Furthermore, it will prepare you to BE in your full inner power and in peace with your life.

During the workshop we will cover:


Releasing the body from stress.
Leading the mind into a peaceful position.
Harmonizing emotions and understaning what Love really is.
Spreading awareness.
Reconnect.
Introducing the power of breathing in our daily life.
Calming our brain activity with powerful meditations.
Understanding the power of feeling whole.
Van Harte welkom!
Ed&Sarabraj